Have a question?
GET IN PEAK SHAPE AND FEEL ENERGIZED WITH MOUNTAIN STEP!

Did you know that choosing the wrong shoes can have long-term health consequences?
Wearing shoes with a flat sole may seem comfortable, but they don't support the natural anatomy of our bodies. It's no wonder that improper footwear can lead to issues like poor posture, foot, joint, and back pain.
That's why Mountain Step Barefoot Shoes are the perfect choice for experiencing the most natural form of walking and running. By adapting to nature, you can unlock the benefits for your physical and mental well-being!
Don't compromise your health with ill-fitting shoes. Embrace the barefoot sensation offered by Mountain Step Barfoot Shoes and enjoy the positive impact on your overall health.
FREE SPACE FOR YOUR TOES!
Your feet determine your posture. However, we often squeeze them into tight shoes, which not only negatively affects the feet but also the entire body.
Conventional shoes can now stay in the closet, saving your money on unnecessary insoles. All you need are the Mountain Step Barefoot Shoes because they:
maximize foot and body health!
provide the highest level of comfort!
are feather-light!
are compact and flexible!
regenerate tendons and bones in the body!
THE ONLY SHOES YOU NEED FOR THE SUMMER!
✓ We stand behind the quality of our product and proudly declare that once you own our Mountain Step Barefoot Shoes, they will work for you over an extended period of time!
✓ Whether you're engaging in sports, hiking, swimming, or driving, our Mountain Step Barefoot Shoes bring comfort to your life and will become your new favorite footwear!
✓ The special sole allows you to feel every surface more consciously while walking. Each step is like a foot reflexology massage! Not only will your immune system be strengthened sustainably, but your psyche will also be positively influenced!
✓ Thanks to the breathable material, your feet remain well-ventilated at all times. Enjoy the warm spring and summer without worrying about sweaty feet. Additionally, these shoes dry extremely quickly due to the material, making them ideal for water activities as well!
WHY MOUNATIN STEP?
Because they are
are suitable for man & woman (unisex)!
adapt to all foot shapes!
offer a trendy look!
are 100% reusable & environmentally friendly!
Get the Mountain Step barefoot shoes TODAY, strengthen your well-being and benefit from our exclusive discount of over 40% + free shipping!
A MAJOR DIFFERENCE
Usual running shoes, sneakers, and gym shoes are normally designed in such a stiff and unflattering way that the bones and tendons of the feet are hardly strained during movement. This is the main reason why most people today struggle with foot problems and foot pain. With age, the symptoms get worse because our foot muscles become less and this will get more serious if we continue to wear bad shoes. So, you should recognize this problem as early as possible and prevent it. Our ALLWalker barefoot shoes simulate barefoot walking while providing protectionfrom rocks, shards, and obstacles that could harm your feet! They are therefore your ideal companion for a healthier future!
A TRUE ALL-ROUNDER
The AllWalker barefoot shoes support you through your entire everyday life. Whether you're driving, at work, at the gym, going for a leisurely walk, or even hiking - you can wear our barefoot shoes in any everyday situation. Thanks to the flexible material, even water is no problem for our barefoot shoes. More than 27,00 customers already trust us and wear their barefoot shoes every day in everyday life!
NO SWEATY FEET
Say goodbye to Sweaty Feet! Thanks to the breathable synthetic fiber and airy sole, your feet have enough space to breathe in our barefoot shoes. This guarantees cool and dry feet even on hot summer days!
Our AllWalker is now available in 7 colors!
Pick your favorite colors and combine them with your outfits. A little tip: baby blue is a real eye-catcher.
SUITABLE FOR EVERY FOOT TYPE
Whether flat foot, drop foot, splay foot, heel spur, or hallux valgus, thanks to the special fit and the soft and thin soles of our barefoot shoes, they can be worn with all the above-mentioned foot deformities.
STABLE AND ELASTIC
Despite their high flexibility, barefoot shoes guarantee a solid stand and provide a superior wearing sensation.
YOUR SATISFACTION IS CLOSE TO OUR HEARTS!

If for WHATEVER reason, you decide you are not satisfied, you can easily and quickly contact our helpful customer support to get an easy refund. We just ask that you at least give the product a 2-week try on us. Don't love it? We'll take it back and give you a full refund, no questions asked!
Size Chart
1.If you have wide feet, it is recommended to choose a size one big
2.If it doesn't have the half size you need, please choose one size up
3.Our shoes are regular size, which are suitable for normal, wide, and even narrow feet because of the special flexible and stretchy upper material that is shaped to fit your feet. 
| | | | | |
| --- | --- | --- | --- | --- |
| TAG SIZE | US | EU | Length(cm) | Length(inch) |
| 35 | 5 | 35 | 22.5 | 8.86 |
| 36 | 6 | 36 | 23.2 | 9.13 |
| 37 | 6.5 | 37 | 23.8 | 9.37 |
| 38 | 7.5 | 38 | 24.5 | 9.65 |
| 39 | 8 | 39 | 25.2 | 9.92 |
| 40 | 9 | 40 | 25.8 | 10.16 |
| 41 | 9.5 | 41 | 26.5 | 10.43 |
| 42 | 10.5 | 42 | 27.2 | 10.71 |
| 43 | 11.5 | 43 | 27.8 | 10.94 |
| 44 | 12 | 44 | 28.5 | 11.22 |
| 45 | 13 | 45 | 29.1 | 11.46 |
| 46 | 13.5 | 46 | 29.8 | 11.73 |
| 47 | 14 | 47 | 30.5 | 12.01 |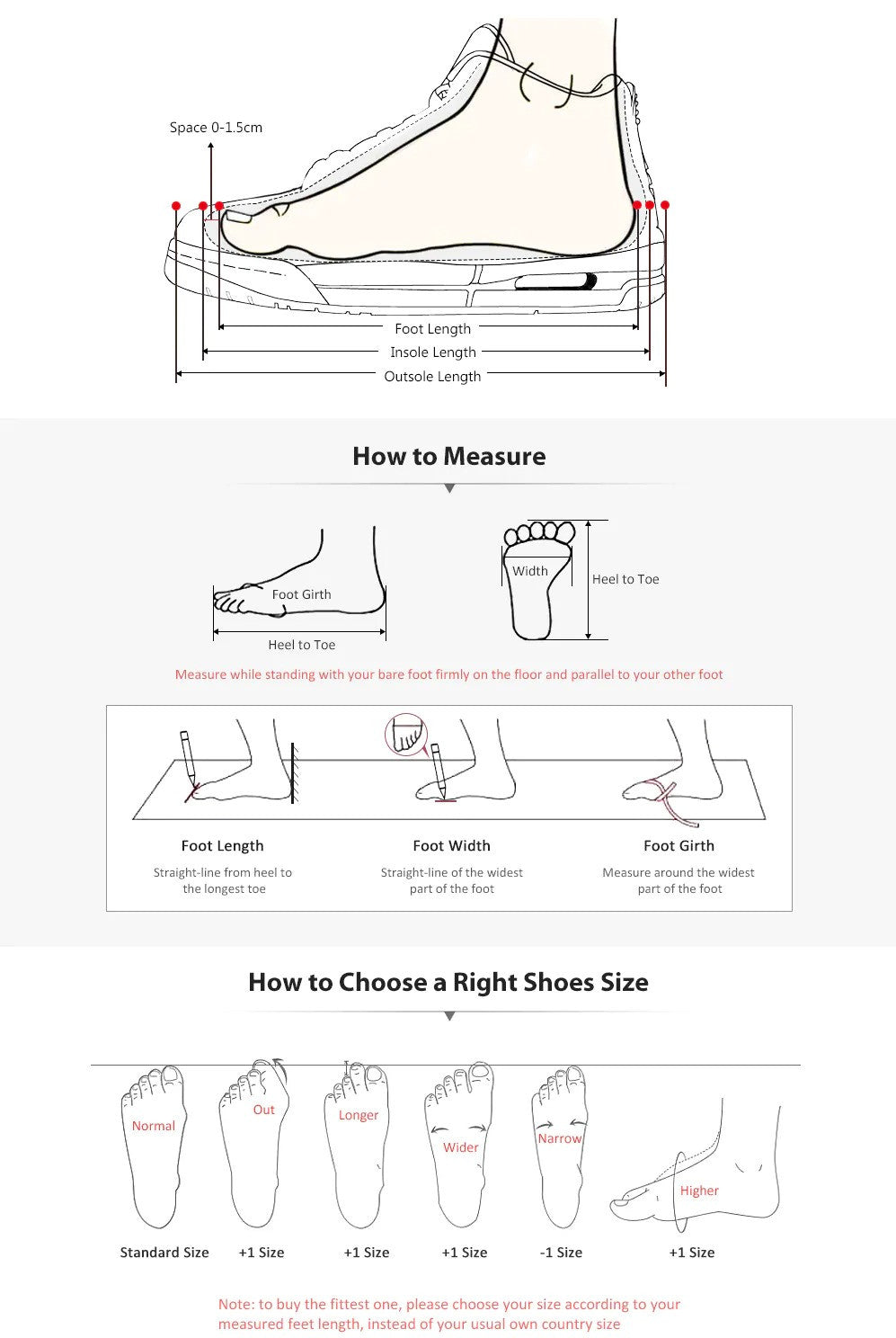 QUESTIONS & ANSWERS
Have a Question?
Be the first to ask a question about this.
Ask a Question